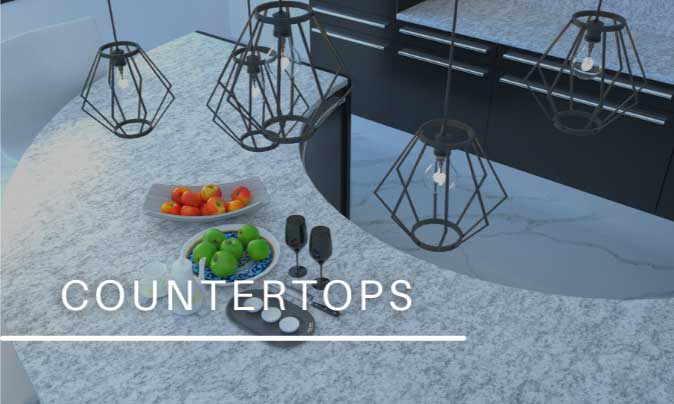 Whether you're talking about the kitchen equipment in our homes or the greatest countertop material in the kitchen, each of us wants the best for our homes in every way. When remodeling or renovating a kitchen, you want everything to be flawless. Choosing the material for your kitchen countertops to be made of natural stone is, therefore, one of the crucial selections.
One of the most popular countertop materials among homeowners for bathrooms or kitchens is natural stone. Natural stone is a great choice due to two key characteristics. These are sturdy and give the house a classy feel.
This blog will tell you about the various countertop materials which are highly durable for your kitchen countertops. When you place these materials in your kitchen, these countertops materials will be a great investment for your kitchen:
Top Natural Stones Highly Durable for Countertops
For countertops in the kitchen and bathroom, natural stone is very popular. This is because they provide you with a great investing alternative. The following natural stone products are suitable for kitchen countertops:
Granite Countertops
Granite is a natural stone that is quite popular among homeowners who desire a countertop that requires little upkeep and is extremely durable. This stone is found naturally, and it can withstand rough conditions like intense heat and abrasion. Additionally, this stone is stain-resistant.
These granite countertops come in a wide range of designs and hues. You can choose the ideal granite countertop for your residential kitchen with ease thanks to this wide variety.
Granite countertops last longer since they are quite resilient. Your granite slabs and countertops may last a hundred years if you take good care of them.
The value of your home might increase by about 25% thanks to these granite countertops. There are no other countertops like the granite ones close to me. Therefore, they are distinctive.
Quartzite Countertops
Another natural stone is quartzite. In terms of durability, this stone is pretty comparable to granite. Due to its hardness, quartzite is resistant to heat and scratching. Additionally, it is stain resistant. These are only a few of its outstanding qualities which make it the perfect option for busy and packed kitchens.
These quartzite countertops come in a variety of designs and hues. In this countertop material, you can discover strong to neutral tones and even dramatic tints.
Well, quartzite is a material that is frequently used in the construction of various types of homes, including fireplace mantels. Quartzite countertop slabs are a great way to give your kitchen an organic look and feel.
This quartzite stone also bears some uncanny similarities to marble stone. So this is an inexpensive substitute for marble in your home if you can't afford it.
Marble Countertops
Another popular natural stone used by homeowners for their kitchen countertops is marble, an exotic stone. Because of its enduring beauty and elegance, this stone is well-liked whether you have marble flooring or kitchen countertops or any home with marble stone.
With the help of this traditional natural stone, such as marble stone, you may give your house an exotic appearance and charm. One of its downsides is that it is softer than granite. Because it is softer, it is readily damaged and discolored.
However, if you maintain your marble flooring and countertops, they can last for many years. But they need to be properly maintained and cared for. Other natural stones cannot compete with marble's exotic appearance.
Marble stone offers a beautiful touch to your home because it is very rich. The veining in the marble stone, however, is what draws visitors in the most. As a countertop surface for cooking or baking, marble countertop slabs are a fantastic choice.
Soapstone Countertops
The heat resistance and toughness of a natural stone known as soapstone are well known. Although it is a soft stone that is readily scratched and dented, these imperfections could add to its appeal. Countertops made of soapstone come in a variety of hues, including green, light gray, and black.
Unlike other countertop materials, soapstone is non-porous, so it won't stain, and you won't have to worry about bacteria growing on it. Since acid doesn't react with it either, stains on other countertops are commonly the outcome.
Soapstone is sturdy even though it is soft in comparison to other stone surfaces. This stone material typically lasts for more than 20 years. Soapstone is a naturally occurring material that can be recycled. It is also chemical-free, and you can commonly get recovered soapstone online.
It's important to regularly oil soapstone, and if it gets dents or chips, it could need to be refinished. However, soapstone doesn't require routine sealing like other stone surfaces do.
Limestone Countertops
Limestone is a natural stone renowned for its striking patterns and texture. Because it is a softer stone than granite or quartzite, it can scratch and stain more easily.
However, with the proper maintenance, limestone countertops could last for many years. They are available in a variety of hues, including beige, gray, and blue.
SK Stones offers you the Premium Quality Countertops
Natural stone countertops come in a variety of options. Granite, marble, quartzite, slate, soapstone, and limestone are long-lasting materials that can improve the appearance and market value of your home.
When picking a natural stone countertop, consider your lifestyle, kitchen design, and budget to find the best solution for your requirements. Given that SK Stones is the premier provider of these stones, you may also look at the many countertop materials we have available!
Read More: How to Fix Damaged Marble Stone on Countertops and Floorings?