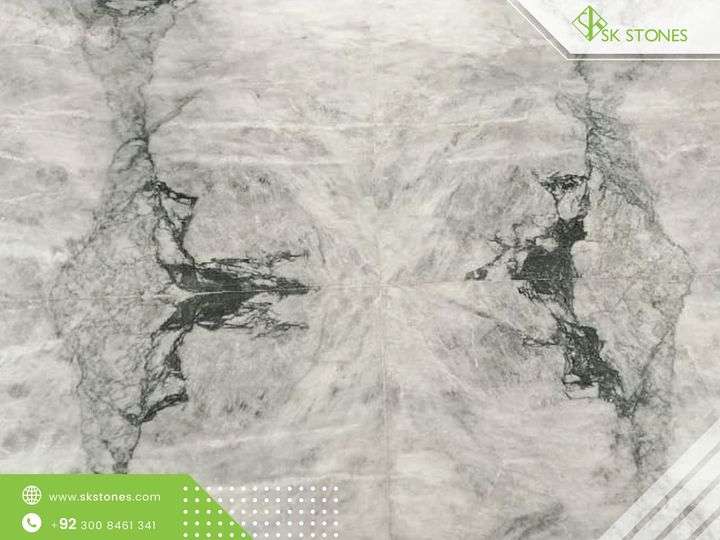 When it comes to home remodeling, marble has been the epitome of elegance and luxury in interior design for centuries. Its most sophisticated element brings opulence and timeless beauty. Find an array of varieties of the finest marble from SK Stones Pakistan.
In this blog, you will find out about the exotic marble collection, the types of marble, and the specialized marble floor designs available in Pakistan. Moreover, we will discuss the price of white marble. Additionally, we will answer your queries regarding the marble factory near me. So, let's start with the types of marble in Pakistan. 
Find Exotic Types of Marble in Pakistan
Embrace a change in your walls, floors, or stairs with the finest marble natural stones from SK Stones Pakistan. In Pakistan, there are endless variety of marbles whatever type you want, we've got you covered. For instance, we have the stunning Carrara White and the warm embrace of Botticino that you can select according to your needs and preferences. Furthermore, each marble comes with unique features, color, pattern, and texture, making the selection processes a delightful experience. It's up to you now if you are fond of classical or contemporary marble floor design. You'll find the perfect marble type at SK Stones Pakistan.
The Allure of Sunny White Marble
If you want pristine beauty and charm in your home then pick the striking Sunny White marble, which is a popular choice in Pakistan. It is the epitome of grandeur and luxury and is used on elite-class buildings like Burj Khalifa. The high-definition, lustrous white surface and subtle veining add a touch of elegance to any space. If we talk about SK Stones Pakistan, it offers competitive prices for Sunny White marble, making it an accessible choice for both residential and commercial projects.
What Is The White Marble Price In Pakistan?
When choosing white marble, you will expect a high range of pricing. But, in actuality, it is not. Keep in mind that marble comes with long-term durability, so its pricing could accelerate. But SK Stones Pakistan understands this, and that's why they offer competitive prices. So, the cost of the white marble we offer in Pakistan varies. Additionally, the cost depends on the type and quality. To get the best price and quality, it's essential to visit a reputable supplier like SK Stones Pakistan, where you can explore various options and find a marble that fits your budget.
Discovering New Marble Designs
Marble is a versatile natural stone that is not limited to use in floors and walls but also covers bathroom vanity tops and kitchen countertops. We have made it a versatile choice for various applications. From the highly intricate design of mosaic patterns to bold geometric designs, marble is the artistic definition and brings a graceful aesthetic. At SK Stones Pakistan, you'll find the latest trends and new marble design ideas that can transform your space into a masterpiece.
Marble Floor Designs: Timeless Beauty for Your Home
Marble is itself a stunning piece of art that will add splendor to any space. Whether you install floors or walls, they exude timeless beauty with long-term durability. Whether you prefer classic, traditional designs or modern, minimalist layouts, marble is the king that will adapt to any home interior design. SK Stones Pakistan offers an array of marble floor designs that cater to every style, ensuring your space becomes a work of art in itself.
Find out Stunning Types of Marble In Pakistan
The marble world is vast, so the varieties are also endless. SK Stones offers a diverse range of types of marble in Pakistan; some of the best types are listed below.
Carrara White Marble:
Carrara white marble is known for its premium, feathery veining and sleek look. It comes under the classical style with a touch of luxury and grandeur to the space.
Botticino Marble:
If you need dark shades, then go with this type. It comes with a warm beige hue and unique patterns. Add Botticino marble for timeless beauty for both floors and walls.
Badal Marble:
Locals prefer Badal marble due to its striking gray and distinctive grey and gold veining, which adds a contemporary and allure look to the place.
Sunny White Marble:
Sunny marble is the most popular type of marble. Older people like it due to its high-end elegancy, sophistication, and sleek design. Furthermore, its pure white appearance and subtle veining make it a popular choice for a wide range of applications.
Black and Gold Marble:
For a bold and dramatic look, black and gold marble combines dark and rich veining with golden highlights, creating a striking contrast.
Finding a Marble Factory Near You
When you are going to overtake the home remodeling project. It's crucial to get in contact with reputable suppliers of marbles in Pakistan. Also, get access to a reliable marble factory in this case the SK Stones Pakistan not only offers an impressive array of marble types but also provides the convenience of being close to you. With their network of showrooms and factories across Pakistan, you can easily find a location that suits your needs.
Conclusion
SK Stones Pakistan is your partner in providing high-quality types of marble and marble floor designs, and caters to all your preferences. We will get you covered for new marble designs, marble floor designs, or cater your needs professionally. We are known for our unwavering commitments, quality standards, and innovations. Contact us now to adorn your home walls, floors, bathroom, or any space of your home with marble splendor. Our 24/7 vigilant staff will be happy to answer your queries.